2/3 of Irish adults are not getting enough exercise. All though Christmas is a time to switch off and relax, it's important to try maintain a level of activity over the festive period. Here are easy tips to help keep you moving.
1. Walking
Weather permitting, try meet your friends and family for a nice walk instead of sitting by the fire. Aim to get up to your 10,000 steps daily.
2. Stretching
Going through a stretching regime is a nice way to get moving. Check out some good overall body stretching exercises here and here.

3. Avoid sitting for long periods
If you are doing a long drive over Christmas, try to take some stops to stretch your legs and get moving.

4. Christmas Day Swim / Turkey Run
Why not take part in your local Christmas/ New Year's Day swim or run? Here is a list of some taking place around Ireland.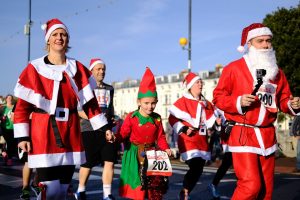 5. Set goals
Make some realistic fitness goals for 2019 and how you are going to achieve them. Why not sign up for that Tough Mudder or Triathlon that you have talked about doing?
Merry Christmas from all of us at Peak Physio and don't hesitate to contact us in 2019 if you need help achieving those fitness goals!