In this video we look at three key exercises for Tennis Elbow!
Tennis Elbow Exercises!
Related Posts

10 things you didn't know about Tennis Elbow
The condition was initially described in 1873. The name "

la

wn tennis

elbow" first came into use for the condition in 1882.

Around 2 % of the population aged 30-50 will present with these symptoms.

It is not just tennis players, Tennis Elbow is also known as Lateral Epicondylitis or Lateral Elbow Tendinopathy

Our lateral elbow anatomy is made up of a number of components, the key component we have to assess when looking at Tennis elbow is our common wrist extensors. They create a broad tendon that inserts on the outside of the lower part of the humerus.
read more
Peak Physio
10 Thing's You Didn't Know About Tennis Elbow
Here are some quick exercises that you can do for your rotator cuff.
read more
Peak Physio
Rotator Cuff Exercises.
Running is an excellent way to get fit! However, sometimes when we start a new program we can feel little niggles beginning to arise. Achilles tendinopathy is a common injury among runners, especially those who are increasing their training load.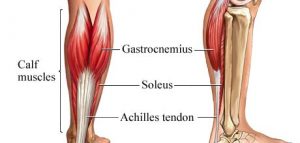 What is the achilles?
The achilles tendon is the biggest and strongest tendon in the body located in the back of the lower leg. The tendon has the capacity to resist large forces. It stems from the calf muscles (the gastrocnemius and soleus) and inserts into the heel of our foot (the calcaneus).
What is Achilles Tendinopathy?
A tendinopathy is a disorder which can happen when there is disrepair and disorganisation within the tendon structure. This can happen when there is excessive load placed on the structure, for example if someone starts running and increases their mileage too quickly.
The effects of overuse, poor circulation, lack of flexibility, gender, and hormonal factors can lead to tendinopathies. The structure of the tendon is disturbed by repetitive strain, causing inflammation. This cumulative microtrauma weakens the tendon, which ultimately leads to tendinopathy, especially if recovery is not allowed.
read more
Peak Physio
Achilles Tendinopathy – a common running injury