Tennis elbow – What a pain in the…..elbow!
More recently I have seen an increase in the number of patients coming through our door with pain on the outside of their elbow.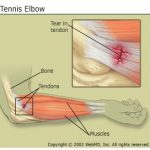 With increased demands at work ( keyboard, mouse or repetitive use of tools) , Sport ( repetitive sports like Tennis, Squash or Golf) and increased use of our mobile phones there can be an overuse repetitive strain on the extensor muscles of the forearm. The extensor muscles of the forearm are attached to the outside 'lateral' aspect of the elbow. Previously it has been called an inflammatory condition but with new recent evidence its actually more a tendinopathy and the inflammatory part is only present in the early stages. With tendinopathies there is different changes to the tissue and can mean different ways on how we manage the tendon compared to previous strategies.
read more